A unique house built entirely of 100 year-old Scots pine, Douglas fir and European larch.
Spectacular views over Loch Torridon
Secluded position
Sleeps up to 14 people
Full access broadband and Wi-Fi
Well equipped kitchen
Dogs by arrangement
More information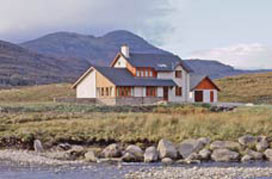 The Thrail House is a spacious and comfortable house in the most magnificent setting. It's the perfect place to return after an exhilarating day on the hills or on the water.
Secluded riverside location
Wonderful views of Liathach
Sleeps up to 8 people
NEW BROADBAND WIFI THROUGHOUT!
TV with free Sat
Full central heating
Dogs by arrangement
More information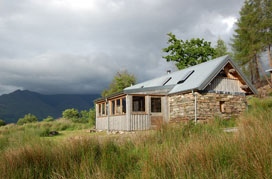 Back to basics with the 'sitouteree.' A quirky new no frills property on the Ben Damph estate.
Spectacular views over Loch Torridon
Dry Bothy (no running water)
2 rooms with two bunks each
A woodburning stove in each room
Outside long drop privy
More information